This page is for archival purposes only. The EFIS Starter Kit is no longer being marketed. The book Building and Programming a Synthetic Vision Information System (SVIS) is available from
Build and Program Your Own Electronic Flight Instrument System with 3D Terrain
AeroSpectra has developed an EFIS Starter Kit to enable amateur aircraft builders to build and program their own PC based Electronic Flight Instrument System (EFIS) with 3D terrain depiction (a.k.a. Synthetic Vision Information System). If you can build a PC (or have a friend that can help), you can build an EFIS for your Amateur Built aircraft. With our starter kit and your time, a system rivaling commercial systems costing $50K or more is possible.
The EFIS Starter Kit consists of:
1) Our fully assembled and calibrated Air Data, Attitude, and Heading Reference System (AD-AHRS). This is a compact (2.25 x 3.0 x 5.25 in), lightweight (11 oz), low power (0.10 Amps @ 12 Volts), all attitude module, with remote magnetic field sensor (1.5 x 2.25 x 2.25 in, 3 oz).

2) Our book "Building and Programming a Synthetic Vision Information System (SVIS)".

3) A basic EFIS program for an IBM compatible PC. This program includes 3-D terrain depiction.

4) A CD ROM which includes a program template to which features such as highway-in-the-sky (HITS), autopilot, etc. may be added.
Almost immediately after receiving your EFIS Starter Kit, you can have an EFIS display running on your PC. Simply install the basic EFIS program on your PC, connect the included wall power supply to the AD-AHRS, and connect the AD-AHRS to an available PC serial port. On start-up, the PC display will look something like this: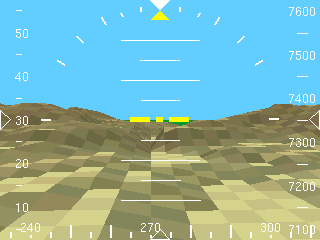 As detailed in our book, the hardware for the aircraft installation is based on commercial-off-the-shelf (COTS) components. Motherboards are now available that easily fit into the width of the standard radio stack. LCD displays designed for automotive entertainment modules may be used for the SVIS display. All the hardware components for such a PC may be obtained for under $2000.
The price of the assembled and calibrated Kit is $2500 F.O.B. Boulder, CO. So, for less than $5000 and the builders time, a very sophisticated EFIS may be assembled.
[The Kit with a partially assembled and uncalibrated AD-AHRS is no longer being offered.]
See the KITPLANES web site for an introductory series of three articles about building your own EFIS.
The book and CD-ROM are available separately for US $95.
Jim Hauser
Updated July 15, 2012.
This page is for archival purposes only. The EFIS Starter Kit is no longer being marketed. The book Building and Programming a Synthetic Vision Information System (SVIS) is available from
©2012 AeroSpectra Inc. All rights reserved.